With a great business plan comes great responsibility

---
Try the BoB Gold current account today!
BOB Gold Current Accounts
'Now open your business account under 'BoB Gold current account' scheme and enjoy many facilities without any cost.'
 Currency: A/c can be opened in AED, USD, and GBP

Cheque book facility
a) Cheque book facility available for AED account
b) Only Bank-to-Bank transfers will be offered for other currency accounts

Cheque book will be issued free of charges

Minimum balance of AED 50,000 on daily basis

Free ATM (For corporate and personal accounts)

Certificates in a year will be issued twice without any charges

No restriction in no. of transactions

Free transaction/view-based e-banking

Free statement of a/c through e-mail.

Mandate facility – free

No charges for remittance to India to Bank of Baroda account

No account maintenance charges

No intersol charges or equivalent amount of USD/GBP

The company will be enrolled as a preferred company for retail loans to its employees. If the company mobilises current accounts with us, concessions in remittance charges may be allowed within branch managers discretionary powers
Duly filled account opening form

Copy of registration with economic department*

Share certificates*

Original Trade License and a photocopy of the same*

Original passport with photocopies of all relevant pages of the director/s/authorised signatories with residence Visa Copy

Chamber of Commerce Registration*

Free Zone Registration*

Labour Agreement*

Copy of the Memorandum and Article of Association along with all amendments

LLC Agreement

Certified copy of the board of directors' resolution regarding conduct of the account along with signatures of the authorized signatories as per the format printed in the application form

Introduction of the Business Account holder

Two recent photographs of the director/s/person

Copy Of Tenancy Contract

Bank account statement of existing A/c - if corporate maintains account with other banks

Original documents to be produced for verification

All A/cs are opened based on KYC guidelines as prescribed by the Central Bank of the UAE

In case of overseas companies incorporated abroad following documents are to be notarized in country of incorporation and legalised by the UAE Govt./Consulate (*required as per constitution of firm)
As applicable from time to time, please refer to service charges guidelines separately or click service charges to see more details.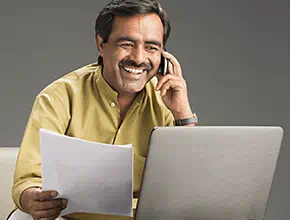 Request Callback
Please fill in these details, so we can call you back and assist you.