बचत करना अच्छाथ है. सावधानीपूर्वक बचत करना और भी अच्छा. है.
हमारे विभिन्न बड़ौदा बचत खातों में से चयन करें.
Platinum Current Account, our latest to join the list of premium accounts, offers plenty of benefits and can be opened by business firms and corporates maintaining a monthly average balance of AED 2,000,000. So, what are you waiting for?! Open an account and experience all features that it has to offer.
___ % ब्या)ज अर्जित करें
निःशुल्क नकदी जमा
आपकी उंगलियों पर आसान मोबाइल बैंकिंग
इंटरनेट बैंकिंग के लिए एक्से स
सुविधाजनक तथा परिचालन के लिए आसान
अनेक बार आहरण का विकल्पे
कोई छुपी लागत नहीं
डीआईसीजीसी द्वारा बीमाकृत जमाराशियां
डेबिट कार्ड के लिए पात्र
निःशुल्कब चेक बुक
Copy of Trade License, Chamber of Commerce & Economic Dept Registration.
Copy of MOA and AOA. (In case documents in Arabic, then English translation of all documents).
 Self attested copy of Passport, Visa and Emirates ID/Pan card of all partners.
Copy of Tenancy Contract with Ejari.
One recent color Passport size photograph of the authorized signatory.
Board resolution for opening of account with BOB as per format given in the account opening form.
Bank's account statement for last 6 months for existing company.
Resident Tenancy contract copy.
In case of subsidiary/Branch office of the foreign company, duly legalized and consularized Board Resolution of the parent company for setting up Subsidiary/Branch office at UAE.
MOA and AOA of the parent Company.
Share holding pattern/Share certificate of the parent company.
NOC from Sponsor, In case sponsor name different on VISA.
original of all the documents for verification.
Submit AECB report for account opening.
1 year vat returns/2 years audited balance sheet
Company Seal/Stamp.
As applicable from time to time, please refer to service charges guidelines separately or click service charges to see more details.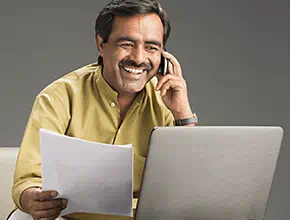 Request Callback
Please fill in these details, so we can call you back and assist you.