बचत करना अच्छाथ है. सावधानीपूर्वक बचत करना और भी अच्छा. है.
हमारे विभिन्न बड़ौदा बचत खातों में से चयन करें.
Premium Current Account can be opened by business firms, companies, institutions and other corporate bodies etc. but excluding banks and financial institutions.
| Period | ROI |
| --- | --- |
| 0 to 29 days | NIL |
| 30 days to 59 days | 0.10% |
| 60 days to 89 days | 0.10% |
| 90 days | 0.20% |
Open your account in AED and USD currencies
Minimum Balance of AED 100,000, USD 50,000
Interest on short deposits will be as per bank's rate
Period - TD shall be for 90 days
Premature payment - In case of premature transfer of amount from TD before 30 days, no interest shall be paid
Enjoy the benefits of interest with 'Auto sweep facility available'
Interest paid on balances kept in excess of minimum threshold by creating Flexi Fixed Deposits (FFD) as per below:
Auto Sweep/Reverse sweep will be for AED 25,000/ USD 13,600 in excess/shortfall of AED 250,000/ USD 68,000
System will automatically reverse sweep the TD, if outstanding balance in current account (apart from TD) falls below the minimum balance requirement
Sweep/Reverse sweep will take place at the time-of-day end activities
Free unlimited cheque book
One cheque book of 50 leaves is free per half year (Apr-Sept and Oct-Mar).
Duly filled account opening form

Copy of registration with economic department*

Share certificates*

Original Trade License and a photocopy of the same*

Original Passport with photocopies of all relevant pages of the director/s/authorised signatories with residence Visa Copy

Chamber of Commerce Registration*

Free Zone Registration*

Labour Agreement*

Copy of the Memorandum and Article of Association along with all amendments

LLC Agreement

Certified copy of the board of directors' resolution regardingthe conduct of the account along with signatures of the authorised signatories as per the format printed in the application form

Introduction of the Business Account holder

Two recent size photographs of the director/s/person

Copy Of Tenancy Contract

Bank account statement of existing A/c - if corporate maintains account with otherbanks

Original documents to be produced for verification

All A/cs are opened based on KYC guidelines as prescribed by the Central Bank of the UAE

In case of overseas companies incorporated abroad, following documents are to be notarized in country of incorporation and legalised by the UAE Govt./Consulate

(*require as per constitution of firm)

Click here to view the check list as per constitution of firm
As applicable from time to time, please refer to service charges guidelines separately or click service charges to see more details.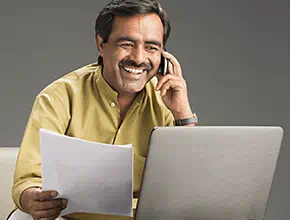 Request Callback
Please fill in these details, so we can call you back and assist you.