Special features for a special you!

---
Get your special current account today.
Your saving is your money; we add the value to grow your money more, now open the account with the Bank of Baroda and enjoy the host of benefits.
Only Individuals (single/joint) eligible
The Product is offered to Savings A/c customers who require Cheque book facility
A/c can be opened in AED, USD and GBP
Minimum Balance AED 2500/- or equivalent amount of USD/GBP
Interest -NIL-
Mailing of statement of accounts on monthly basis through email - free of charges
All A/cs are opened based on KYC guidelines as prescribed by the Central Bank of UAE
Free remittance to India in any branch of Bank of Baroda
Duly filled Account opening form (Signed in front of bank officials)
Valid photocopy of Passport with address page and Valid VISA page
Photocopy of valid labor contract
Two recent passport size photographs
Salary certificate or valid copy of labor contract
Original documents to be presented for verification
Source of income should be provided by customer before availing cheque book
In case of salaried class person- NOC from employer is require
As applicable from time to time, please refer Service charges guidelines separately or click Service charges to see more details.
Additional guideline of charges for the scheme.
One cash transaction over the counter will be free per month.
AED 25/- will be levied for subsequent transaction over the counter in a month.
Statement from other SOL- AED 25/-
Duplicate statement - AED 25/-
A/c balance certificate - free once in the financial year. AED 50/- for extra certificate.
Charges for closure of a/c within a year AED 100/-
Account maintenance charges AED 25/ half-yearly (recoverable in March & September.
Cheque Book Charges - AED 1 per leaf after issue of first 50 leaves.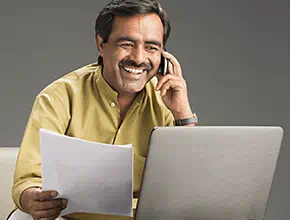 Request Callback
Please fill in these details, so we can call you back and assist you.