Happy to be India's International Bank.

---
Proud to serve over:
131 million customers

Across 18 countries

Since 1908
Our Heritage:
It all started with a visionary Maharaja's uncanny foresight into the future of trade and enterprising in his country, India. On 20th July 1908, under the Companies Act of 1897, and with a paid up capital of Rs 10 Lacs started the legend that has now translated into a strong, trustworthy financial body, the BANK OF BARODA.
It has been a wisely orchestrated growth, involving corporate wisdom, social pride and the vision of helping others grow, and growing itself in turn.
The founder,Maharaja Sayajirao Gaekwad, with his insight into the future, saw "a bank of this nature will prove a beneficial agency for lending, transmission, and deposit of money and will be a powerful factor in the development of art, industries and commerce of the State and adjoining territories."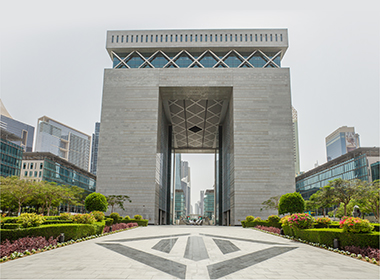 For Bank of Baroda, it has been a long and eventful journey of over a century across 18 countries. ( Global Presence - Overseas Branch Offices )
Starting in 1908 from a small building in Baroda to its new hi-rise and hi-tech Baroda Corporate Centre in Mumbai, is a saga of vision, enterprise, financial prudence and corporate governance.
Our mission statement:
To be a top ranking National Bank of International Standards committed to augmenting stake holders' value through concern, care and competence.
Bank of Baroda, DIFC :
Bank of Baroda, DIFC Offshore Banking Unit, is established in March 2013.
As a category 1 license holder from the DFSA, the Offshore Banking unit of the Bank at DIFC enables the individual and corporate investors across the globe to resort to international markets for their financial requirements.
The Unit offers a portfolio of deposit and loan products. The Branch is equipped with the required infrastructure in the IT and Communication facilities for the best customer service.

The branch is regulated by the Dubai Financial Services Authority (DFSA).