A great business plan needs transactional flexibility

---
Unlimited transactions, only with BoB current account.
Current Account (Individual)
Current Deposits product is ideal for Business firm, companies, institutions and other corporate bodies etc., who need banking facility more frequently. This is one of the most basic and flexible deposit options, allowing transaction without limiting the numbers.
Current Account (Individual) : Key Features
Account for any resident Individuals who are either GCC Nationals or Indian national including Person of Indian Origin.
Account in the name of minor can be opened till he/she become major (i.e., 21 years of age) provided the account will be operated by natural guardian only i.e., father or mother of minor
A/c can be opened in AED & USD currency only
Joint Account is permitted with operating instructions of Jointly, Any one only.
Opened basically for Savings purpose with cheque book facility.
Cheque Book issuance subjected to satisfactory AECB Report
Current Account (Individual) : Documents Required
Duly filled account opening application form (signed in front of bank officials)
Photocopy of valid passport including address page and valid VISA page
Copy of valid Emirates ID
Photocopy of valid labour contract (in case of salary account)
No objection certificate from sponsor
Two recent passport-size photographs
Copy of Tenancy contract/Ejari wherever applicable
Original documents to be presented for verification
Current Account (Individual) : Charges
As applicable from time to time, please refer Service charges guidelines separately or click Service charges to see more details.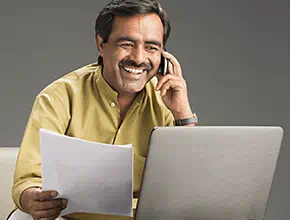 Request Callback
Please fill in these details, so we can call you back and assist you.

How do I open a personal banking account at Bank of Baroda UAE?

Visit our website and navigate to the personal banking
Choose the account you want to open and click on "Apply Now".
Fill in your personal information and submit the application.
Await contact from our executive.

Alternatively, visit our branch, EBSU in-person to apply or contact our 24*7 toll-free call centre at 800-BARODA (227632) for personal banking services.

What services and products are available with a personal banking account?

Bank of Baroda UAE offers various personal banking services including digital banking- internet and mobile banking.
We provide many types of personal banking options such as vehicle, property, and home loans.
An NRI desk is available at the Al Karama Dubai Branch to serve the needs of NRI customers.
Safe deposit boxes are available for customers to securely store valuable items.

What types of loans and other financial products are available to personal banking customers?

Personal banking customers have access to a variety of loans and financial products.

Popular options include car loans, top-up loans, salary-linked personal loans, home loans, and loan against property.
These personal banking products cater to diverse financial needs, such as purchasing a car or home, or addressing short-term financial obligations.