No distance is too far for us.

---
Banking solutions by Bank of Baroda.
We welcome all NRIs of the UAE to bank with us.
Contact Person : Mr. Anish (Mobile: +971 56 530 1101)
We welcome all UAE based NRIs to bank with us. To cater to the growing needs of our NRI customers and to provide the best services, we have set up India Desk at our Dubai Main Branch, Al Karama. In UAE we have a network of 5 Branches, 9 EBSUs and 45 ATMs. The Bank is also the only Indian Bank in UAE providing full-fledged banking facilities. You can bank with any of our 5300+ branches in India.
TDS (NRE/NRO)
For more information on NRI, Click Here
Click here for checklist of Opening NRE / NRO
---
Contact
| Branch Name | Contact | Fax | Email |
| --- | --- | --- | --- |
| Dubai | +97143136680 | +97143535548 | indiadesk@bankofbaroda-uae.ae |
| Abu Dhabi | +97126322000/206 | +97126335293 | indiadesk.abudhabi@bankofbaroda-uae.ae |
| Deira | +97142600900/202 | +97142298518 | deira@bankofbaroda-uae.ae |
| Sharjah | +97165037919 | +97165738137 | sharjah@bankofbaroda-uae.ae |
| Ras Al Khaimah | +9717269377 | +97172269399 | rasal@bankofbaroda-uae.ae |
| NRI Cell, Zonal Office | +97143136646 | +97143530839 | nricell.uae@bankofbaroda.com |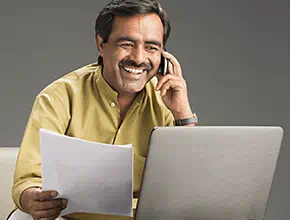 Request Callback
Please fill in these details, so we can call you back and assist you.

NRI Banking refers to specialized banking services tailored for Non-Resident Indians (NRIs) residing in another country but maintaining financial connections with India. These services encompass loans, remittances, investment opportunities, and more.

How do I open an NRI account with Bank of Baroda?

To open an NRE savings account, you have two options:

Visit the NRI service section on our website and fill out the application form.
Visit one of Bank of Baroda's branches in the UAE and open an account in person.

You can also contact us by calling the toll-free number 800-BARODA (800227632) for assistance with opening an NRE savings account.

What types of NRI accounts does Bank of Baroda offer?

Bank of Baroda offers many types of NRI accounts to meet the financial needs of non-resident Indians.

Account options include NRE and NRO savings accounts, FCNR accounts, Capital gain account, PIS account, and RFC account.
These accounts offer benefits like higher interest rates and liberated remittance services.
Account holders also enjoy access to Internet banking and Mobile Banking for convenient management of their accounts.

FCNR stands for Foreign Currency Non-Resident Account. NRIs who want to maintain a Fixed Deposit Account in India can choose an FCNR Account. This account enables you to save money in foreign currencies such as US dollars, Sterling pounds, Euros, Australian dollars, and Canadian dollars.

What is a Capital Gain Account?

The Indian government provides tax relief to individuals who reinvest their capital gains within a specific time frame. The Capital Gains Account Scheme allows taxpayers to temporarily hold their capital gains until reinvestment. You can choose from two capital gain account options.

· Capital Gain Saving Account

· Capital Gain Term Deposit Account

For more information you can visit:

Capital Gain Account Scheme

NRIs can invest in shares of Indian companies on a repatriation or non-repatriation basis through the Portfolio Investment Scheme (PIS) Account.

RFC accounts (Resident Foreign Currency) are bank accounts designed for resident Indians to hold foreign currency. These accounts are particularly beneficial for NRIs returning to India who wish to bring back foreign currency from their overseas bank accounts.

What are the permissible debits?

NRE Accounts

Local disbursements/payments.
Remittance outside India.
Transfer to other NRE / FCNR accounts and investments in India
Any other transaction if covered under general or special permission granted by the Reserve Bank.

NRO Accounts

Local payments
Remittance outside India of current income like rent, dividend, pension, interest, etc. in India of the account holder.
Transfer to other NRO accounts or remittance of current income abroad
Transfer to NRE account, within overall limit of USD 1 million per financial year, subject to payment of applicable taxes in India.

Can I repatriate money out of balances held in my NRO accounts?

Interest earnings from NRO accounts can be repatriated. Furthermore, individuals are permitted to remit up to USD 1 million per calendar year from NRO account balances, subject to applicable taxes, for any purpose, up to a total value of USD 1 million.

How do I contact Bank of Baroda for any queries or service requests?

Contact our UAE Toll-free number for NRI at 80001830996.
Visit the nearest Bank of Baroda branch in UAE.
Alternatively, you can send an email to nribo@bankofbaroda.com.