It's time to make your smart move.

---
Smart savings for a future-ready life.
BarodaConnect (Internet Banking)
Digital Banking : BarodaConnect (Internet Banking)
Digital Banking : M-Connect plus UAE
M-Connect plus UAE
Bank of Baroda's new Mobile Banking application with all new features and completely new user interface
mConnect activation guide: Click here
Digital Banking : ATMs
ATMs
Our bank's widespread network of ATMs/Cash Dispensers make it easy and convenient for customers to bank 24 hours a day. With more than 43+ ATMs set-up within the UAE, we ensure that you are never too far from an ATM. User-friendly graphic screens and easy to follow instructions in a language of your choice makes our ATM Banking a smooth experience. Bank of Baroda has partnered with Central Bank Switch for transacting with other banks
Bank Of Baroda's debit card is enabled with Contactless Transaction. Contactless transactions are capped to AED 500 each, and customer authentication (by entering the PIN for example) must be performed after three consecutive contactless transactions
Following services are free of cost at our ATMs:
Cash withdrawal

Cash deposit

Balance inquiry

Mini statement

PIN change

Rapid funds to India (Fund Transfer to India)

We have received "PCI-DSS Certification" for the Debit Card Operations.

Digital Banking : CA Mobile OTP
CA Mobile OTP
The CA Mobile OTP app is an all-purpose one-time passcode (OTP) generator that provides an extra layer of security when you shop online or access online accounts. With CA Mobile OTP, you use your mobile device to generate a passcode that can be used to verify a MasterCard or Visa electronic payment transaction, or to login to an online account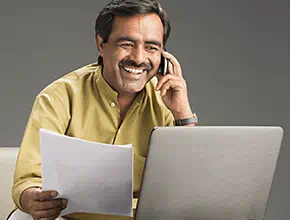 Request Callback
Please fill in these details, so we can call you back and assist you.