Today's small saving for a happier tomorrow.

---
Convenient and flexible term deposits from BoB .
 "Enjoy higher rate of interest with longer periods of deposit. Your money remains safe and secure with an option of easy liquidity."
Term Deposits : Key Features
Account can be opened by Individuals, Minors, Illiterates, Non-Residents and Associations (as per guidelines of the bank)
Deposits can be in AED, USD , GBP or EURO
Minimum tenor of deposit is one month
Maximum tenor is 60 months
Minimum deposit AED 5000/USD 5000
Bank's Card Rate prevailing at the date of instructions received.
Auto renewal facility is available
Term Deposits : Documents Required
KYC guidelines as prescribed by the Central Bank of the UAE
In case of existing relationship with us
Duly filled account opening application form (signed in front of bank officials)
For new customer:
Duly filled Account opening application form (signed in front of bank officials)

Photocopy of valid passport including address page and valid VISA page

Copy of valid Emirates ID

Photocopy of valid labour contract (in case of salary account)

No objection certificate from sponsor

Two recent passport-size photographs

Copy of tenancy contract/Ejari wherever applicable

Original documents to be presented for verification
Term Deposits : Charges
As applicable from time to time, please refer Service charges guidelines separately or click Service charges to see more details.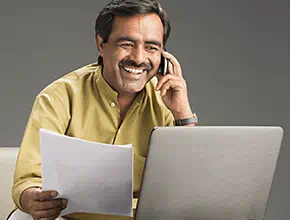 Request Callback
Please fill in these details, so we can call you back and assist you.

What is a term deposit account and how does it work?

Term deposits accounts, also referred to as fixed deposits or time deposits, involve depositing funds for a fixed duration in a bank account. The bank provides a predetermined interest rate on the deposit, which is generally higher than a regular savings account.

What are the benefits of opening a term deposit account with Bank of Baroda UAE?

Opening a term deposit account with Bank of Baroda UAE offers several benefits-

Bank of Baroda UAE offers term deposit accounts with currency options including AED, USD, GBP, and EURO.
The auto-renewal feature ensures that your investment continues to earn interest automatically after maturity.
It eliminates the hassle of manual renewal and provides convenience to account holders.

What is the minimum and maximum deposit amount for term deposit accounts?

The minimum deposit amount for term deposit accounts at Bank of Baroda UAE is AED 5000 or USD 5000.
The minimum tenure for the deposit is one month, and the maximum tenure is 60 months.
There is no limit on the maximum deposit amount.