Great savings can take you places

---
Choose from the many savings accounts we offer
  "Your saving is your money; we add the value to grow your money more, now open the account with the Bank of Baroda and enjoy the host of benefits."
Savings Account  : Key features
Account for any resident Individuals who are either GCC Nationals or Indian national including Person of Indian Origin.
Account in the name of minor can be opened till he/she become major (i.e., 21 years of age) provided the account will be operated by natural guardian only i.e., father or mother of minor
Opened for savings purpose
A/c can be opened in AED & USD currency only
Interest *0.40% p.a. (subject to change)
No cheque book facility
Debit card/ Internet Banking/Mobile Banking facility available
No restriction on number of withdrawals (subject to specific Scheme)
All A/cs are opened based on KYC guidelines as prescribed by the Central Bank of the UAE
Remittance to India through ATM/Internet Banking/Mobile Banking
Savings Account  : Documents Required
Duly filled account opening application form (signed in front of bank officials)
Photocopy of valid passport including address page and valid VISA page
Copy of valid Emirates ID
Photocopy of valid labour contract (in case of salary account)
No objection certificate from sponsor
Two recent passport-size photographs
Copy of Tenancy contract/Ejari wherever applicable
Original documents to be presented for verification
Savings Account  : Charges
As applicable from time to time, please refer Service charges guidelines separately or click Service charges to see more details.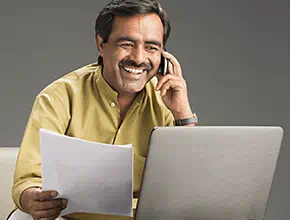 Request Callback
Please fill in these details, so we can call you back and assist you.

What is a savings account and how does it work?

A savings account allows individuals to save money and earn interest. These funds can be withdrawn as needed.

What are the benefits of opening a savings account with Bank of Baroda UAE?

Opening a savings account with Bank of Baroda UAE comes with several benefits-

Offers interest at an annual rate of 0.40% on deposited funds.
Allows access convenient banking services like debit card, internet banking, and mobile banking.
No restrictions on the number of withdrawals (subject to specific schemes).
Remit funds to India through ATM, internet banking, or mobile banking services.

What are the minimum balance requirements for a savings account with Bank of Baroda UAE?

Maintaining a minimum balance of AED 1000 in a Bank of Baroda UAE savings account is required to avoid charges or fees.